Yoga Teachers' Training Course – level I (YTTC-I)
Sivananda Yoga Vidya Peetham (www.sivanandapeetham.org) is conducting a Yoga Teachers' Training Course – Level 1 at the Himalayan Gap retreat in Kalimpong, District Darjeeling, West Bengal, India. The main teachers for this course are Swami Govindananda and Mani Raman.

DATES: APRIL 09 - MAY 08TH, 2016
(Arrival on Apr 9, Departure on May 8, 2016)

VENUE
Himalayan Gap Retreat
Sherpa Gaon, Upper Echhay
Kalimpong, District Darjeeling
West Bengal 734317
India

Tel: +91-991-007-2182 / +91-981-005-2182
Email: himalayangap@gmail.com
Web: www.himalayangap.com/yoga.html

The course will be held in Kalimpong, a bustling bazaar town in the Himalayan foothills that sprawls along a ridge overlooking the roaring Teesta River and the Kanchanjunga, the third highest mountain in the world (after Mount Everest and K2). Located near the town of Darjeeling, at an average altitude of 4000 feet, here you can shop in the bazaar, hike through the dense forests of golden oak trees, raft in the nearby Teesta, or enjoy Tibetan dumplings while watching a beautiful sunset over the gorgeous Kanchanjunga range.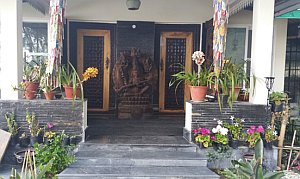 The retreat is located 45 minutes walk from the town in the village of Sherpa Gaon. The serene environment is free from the noise and pollution of automobiles and offers its residents the much-needed break from the chaos and confines of city life. The retreat supports the local community by employing local villagers and hill tribes. The retreat kitchen provides carefully prepared nutritious lacto-vegetarian meals twice daily. Snacks, salads, fruit juices and fruit salads are available from the retreat kitchen during your free time. Students are expected to maintain a vegetarian diet throughout the course in order to have the maximum benefits of the Yogic experience.
Course Donation
Shared room: USD 3000 (for non-Indian nationals and non-resident Indian nationals)
Please email to himalayangap@gmail.com for the information on subsidized donation scheme for resident Indian nationals.
The course donation includes all tuition, accommodation in sharing rooms, uniform (two pairs of trousers and two t-shirts), course manual, kriya materials and meals. They do not include transport to and from the retreat, yoga mat, cushion, and blanket. All donations are non-refundable. A student can transfer from one course before the start of that course, to attend another, once only. After this time donations are forfeited.
Course details
This four-week course offers a profound personal experience, designed to build a firm foundation of inner discipline and provide the proficiency to teach yoga to others. The essence of yoga is learned through a combination of repeated practices and inspirational lessons. The approach to teaching is personal, focusing on the individual student. Among the many benefits students report are increased strength and flexibility, greater spiritual awareness, improved power of concentration, enhanced self-esteem and a new found sense of self-discipline.
This training course fulfils the requirements for the Yoga Alliance 200-hour certification, for which graduates of the program are invited to register.
LANGUAGE
The course will be taught in English.
Pre-requisites
This course is open to all students who wish to deepen their knowledge and application of some of the highest teachings of yoga. Participants do not need to be yoga teachers. Mastery of any yoga practice is not necessary... only your sincere desire for knowledge and your commitment to personal growth. Even if one does not wish to be a yoga teacher, one may attempt this course for the deeper understanding of the philosophies as well as for the intense purification experience and for all round development of the personality.
Curriculum
Five points of Yoga as per the teachings of Sri Swami Vishnudevananda
1. Proper exercise – Yoga Asanas
2. Proper breathing – Pranayama
3. Proper relaxation – Savasana
4. Proper diet – Vegetarianism
5. Positive thinking and meditation – Vedanta & Dhyanam
Yoga Asanas
• The sun salutation and the twelve basic yoga postures
• Advanced variations
• Effects of asanas on the physical and astral body
• Proper posture alignment, deep relaxation, release of blocked energy
• Benefits of Yoga Asanas
Pranayama
• The basic practices: kapalabhati, anuloma viloma (alternate nostril breathing)
• Advanced pranayama exercises
Kriyas
• The six classical exercises for purifying the body
Hatha Yoga / Kundalini Yoga Theory
• The astral body
• The nadis (energy channels) and chakras (energy centers)
How to Teach
• How to teach the sun salutation and the twelve basic postures
• Setting up a proper environment for class
• The basic class
• How to teach beginners and intermediate students
• How to teach children, the elderly, and prenatal yoga
• How to correct
Yoga Philosophy and Psychology
• The four paths of Yoga: Karma Yoga (selfless service), Bhakti Yoga (the path of devotion, including attendance at devotional rituals); Raja Yoga (mind control), and Jnana Yoga (the path of wisdom and realization).
• Psychology of the spiritual aspirant
• The law of Karma
Anatomy and Physiology
• The effects of hatha yoga practices on the major body systems
Yogic Diet and Nutrition
• Influence of diet on the mind
• Proper diet
• Nutrition according to Ayurvedic guidelines
• Ethical, health and spiritual reasons for vegetarianism
Meditation
• Twelve-step guideline to meditation
• The benefits of meditation
• Mantras, mantra-initiation (if requested)
Kirtan (Chanting)
• Positive effects of chanting on the emotions
• Correct pronunciation and mental attitude
• Learning classical Sanskrit chants
Bhagavad Gita
• Study and commentary of the classical scripture
Daily schedule
| | |
| --- | --- |
| 5:00 AM | Wakeup |
| 5:30 AM | Meditation, chanting and lecture or silent walk (90 mins) |
| 7:00 AM | Tea |
| 7:30 AM | Asana and Pranayama Class |
| 9:30 AM | Brunch |
| 10.15 AM | Seva – selfless service (60 mins) |
| 11:30 AM | Bhagvat Gita/Chanting time |
| 1.00 PM | Tea |
| 1.30 PM | Main Lecture on philosophy |
| 3:30 PM | Asana and Pranayama class |
| 5:30 PM | Dinner |
| 7:30 PM | Satsang (meditation, chanting and lecture or special program) |
| 9.30PM | Lights out |
• Attendance at all activities is mandatory. Changes in the program may occur from time to time
• There is one day off in a week. Students are required to attend morning and evening satsangs, attend the morning hathayoga class and to complete their Seva duties. The rest of the day is free for their personal study and activities.
Recommended texts
• Sivananda Training Manual – by Sivananda Yoga Vedanta Centre.
• The Complete Illustrated Book of Yoga – by Swami Vishnudevananda
• Bhagavad Gita (with commentary by Swami Dayananda Saraswati)
• Meditation and Mantras – by Swami Vishnudevananda
• The Sivananda Chant book
(These texts are included in the course donation )
In Addition
Sivananda Companion to Yoga - by Sivananda Yoga Vedanta Centre
Sivananda Beginners Guide to Yoga – by Sivananda Yoga Vedanta Centre
Yoga Mind & Body – by Sivananda Yoga Vedanta Centre
*The above-mentioned texts are available for purchase at the retreat subjected to availability.
Assessment and Certification
The students are continuously assessed throughout the course at all levels. Participant should pass all different aspects of the course to be eligible for the course diploma. There will be a written exam at the end of the course to evaluate the understanding of the philosophy of Yoga and skills of the students.
Assessment is based on:
1. Regular attendance of all classes
2. Attitude and behaviour inside and outside of the retreat while attending the course
3. Performance and attitude in the practical asana, pranayama, bandhas and kriya classes
4. Hatha yoga teaching skills
5. Leading spiritual chanting in the satsangs
6. Written daily summary of the main philosophy classes and hatha yoga theory classes
7. Written examination of 3.30 hrs on the theories of Yoga and Vedanta philosophy.
Main Teachers
Swami Govindananda Saraswati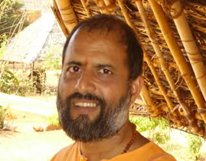 A direct disciple of Swami Vishnudevananda, Swami Govindananda started his Ashram life in Sivandanda Ashram, Neyyar Dam, Kerala in 1987. Swami Govindananda spent more than 20 years with the International Sivananda Yoga Vedanta Centre Organisation. After establishing the Meenakshi Ashram in Madurai for the organisation, he left to continue spreading Guru's messages. Having shared his Guru's teachings throughout many teachers' training courses and Yoga Vacations, Swami Govindananda is much loved by his students for his unique style and humour. For more details visit http://www.sivanandapeetham.org/
Mani Raman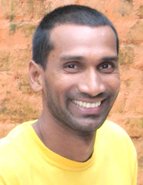 Having grown up in India where he met and learned from numerous yogis, saints and spiritual teachers, Mani developed a strong foundation deeply rooted in Vedic tradition. He took to the practice of Yoga at the age of 12. In 1996 at a very young age, Mani devoted himself entirely to Yoga and joined the gurukula of the Sivananda Yoga Vedanta Dhanwantari Ashram in Neyyer Dam, Kerala, India. He has served in the tradition of Swami Sivananda and Swami Vishnudevananda at the International Sivananda Yoga Vedanta centers. Mani conducts Yoga and Meditation retreats in India, USA, the Far East, Japan and Europe and has transformed the lives of thousands of seekers of Yoga. Much loved by students from beginners to advanced, he teaches Hath Yoga and gives inspiring discourses on Vedanta philosophy, Bhagavad Gita, and other ancient scriptures. For more details visit http://www.maniraman.org/
Swami Nivedananda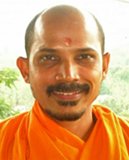 Swami Nivedanananda is born and brought up in Kottayam district in Kerala, India. After formal schooling, at a young age itself Swamiji joined the Sivagiri Sree Narayana Math, Varkala, Kerala and underwent traditional education on Sanskrit, Vedanta, Yoga sutra, Gita, tantric poojas and rituals for 7 years. This led him to take the sannyasa initiation (a vow of a monk ) from the same ashram at a very young age and served the ashram for many years.

Swamiji took formal training in Yoga at the Sivananda Yoga Vedanta Centres in India undergoing the Yoga Teacher Training Course as well as the Advanced Yoga Teacher Training Course. During his stay in Sivananda Ashram, Neyyar dam, India Swamiji taught many hatha yoga classes and Veda chanting. Many of Swamiji's friends and students will fondly remember him as the priest of the same ashram daily following the ritual performance for about 10 years. After leaving the Sivananda Ashrams in 2011, Swamiji now a days is engaged in performing Tantric poojas and havans (fire rituals), teaching hatha yoga classes by travelling to different places as well as helping in the administration of Sivananda Yoga Vidya Peetham
Devatma Chaitanya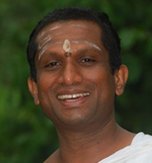 Devatma Chaitanya disciple of Pujya Swami Dayananda Saraswati, born and brought up to a family who is descended to one of the four Yogis who founded the very famous Chettikulangara Devi Temple in the Chettikulangara village of the Travancore region in Kerala state.

After finishing his post graduation in computer science and working in the field for a few years, he recognized the need to find the real aim of life, which afterwards made him leave the job and start his spiritual inquiry. He studied Yoga and Vedanta under various great saints of Himalayas.

Finally, because of the God's grace, he reached into the great hands of Pujya Swami Dayananda Saraswati, one of the greatest teachers of all time in the tradition of the Indian spiritual wisdom. Under the guidance of Pujya Swamiji he studied for around four years in Arsha Vidya Gurukulam, Coimbatore. The traditional teaching included - Upanishads, Bhagavad Gita, Brahma Sutra, Sanskrit, Vedic Chanting and Various other texts related to this. Devatma is a well known teacher for his in-depth knowledge, clarity in the subject matter and his unique way of handling the subject matter.

HOW TO REGISTER
The potential course student may download the application form here.
Please send the filled up application form to sivanandapeetham@gmail.com
Once the application is accepted, the applicant should wire the course donation:
| | |
| --- | --- |
| BANK A/C Number | 01862000025080 |
| Beneficiery Name | HIMALAYAN GAP |
| Bank Name | HDFC Bank Ltd. |
| Bank Address | Exhibition Road, Patna - 800 001, India |
| Swift Code HDFC Bank | HDFCINBBXXX |
The entire course donation needs to be paid latest by one month before the course begins through wire transfer.
HOW TO GET TO KALIMPONG

By Plane
All major Indian domestic carriers serve Bagdogra International Airport from New Delhi (2 hours 20 minutes), Kolkata (45 minutes) and also from Bangkok. Prepaid taxis (approximately Rs. 2000) are available from Bagdogra to Kalimpong, which is approximately 2 and a half hours drive on the winding road alongside the gorgeous Teesta river.
By Train
The closest railway station is NJP (New Jalpaiguri). NJP is connected to Delhi and Kolkata – the journey on the all air conditioned Rajdhani Express is 20 hours from Delhi. Like at the Bagdogra Airport, pre-paid taxis are available for the 2.5 hours drive up to Kalimpong.
If you want us to arrange for your pickup, the approximate cost of sending a taxi from Kalimpong to collect you is Rs. 3000.
Please email your train / plane arrival details to: himalayangap@gmail.com if you want us to arrange. (This is not included in the course donation)
MATERIALS TO BRING
Casual comfortable clothes, yoga mat, meditation shawl, toiletries, notebooks, pens, slip-on sandals, Warm clothing for very cool nights & cool mornings/evenings and clothes for warm days, flashlight, insect repellent, alarm clock, travel mug/tumbler, water bottle, sunscreen
General Information

Please read course details as well as the course location information carefully before making a decision to register.

Total number of participants for this course is 30.

Admission is on first come first-serve basis.

Students should plan latest to arrive on the arrival day and depart on the day of departure.

It is recommended that participants spend at least a few days in the course location before the start of your course. This allows the body and mind to have a little time to rest, re-energize and be nourished by the retreat environment. Participants can then begin their study feeling relaxed and refreshed.

Participants may also wish to stay for some days after the end of the course to allow the learning from the study to integrate more fully into your consciousness within the supportive environment of the retreat.

Students are also welcome to contact the retreat directly if they would like to stay on in the retreat after the course participating in the karma yoga program (volunteer staff program). The karma yoga program is an excellent way to deepen your experience and understanding of yoga teaching.

If one decides to arrive early and also to stay longer, please register for the course program for those additional days.

The retreat reserves the right of admission and students may be asked to leave if their behavior goes against the retreats rules and teachings.