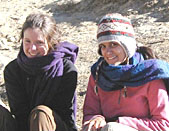 A chance meeting of seventeen year olds on the brick-paved streets of Cambridge, Mass. is where the Himalayan Gap experience finds its roots. Anchal Lochan and Zoe Tucker randomly met during the admitted students' weekend at Harvard College in April 2008, where mutual interest in deferring admission and plans for this exciting year of exploration led the two to exchange notes. Zoe revealed that she wanted to spend time in India, but had not found a program that really intrigued her. Anchal, meanwhile, had decided to spend two months volunteering at her alma mater, Woodstock School, in Mussoorie, India, before going on a trek in the Everest region. Anchal invited Zoe to join her in Mussoorie and on the trek, besides offering to arrange cultural activities and Hindi language learning. Zoe came to India in September that year and although unanticipated, she was the first one to have a Himalayan Gap experience.

Struck by the decided lack of a structured gap-year program in India that offers comprehensive cultural immersion—including language study, volunteering opportunities, indigenous music, dance, and art-forms, and trekking in the Himalayas—Anchal decided to form Himalayan Gap with her father, Rajiv, now a director of the program.
The Directors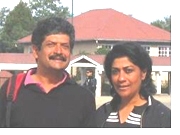 Rajiv grew up in the Himalayas. As an engineer, he worked in the United States for over a decade before moving back to India in 1997. Since then, he has assumed the administrative responsibilities of his family's privately owned high school in Patna, India. Committed to the cause of education and community-building, he has served on the Board of Directors of FreeSchools World Literacy (FSWL) -USA, a 501(c)3 organization that supports informal schools in rural areas of India and Thailand to empower women and children with free education.

Anu Radha, the director of operations at Himalayan Gap, has been a management consultant to the Asian Heritage Foundation, an NGO that works in conjunction with the World Bank to revive rural art forms of India. She is a certified yoga teacher from the Sivananda Yoga Vedanta Centre. Anu also serves as a founding Trustee of FreeSchools World Literacy-India, a partner organization with FSWL-Canada, FSWL-Australia and FSWL-USA.
For over twenty years, Rajiv and Anu have been devoted parents to their own children and to their childhood passion of trekking and rafting in the higher Himalayas. Having lived in, both, North America and India, they are able to seamlessly move between the two cultures and deploying their vast knowledge of north India and the Himalayas to ensure that students have a very personalized and honest encounter with this dynamic and diverse culture.